If you will ask me to define Penn spinfisher v spinning reel in just one word, the word will be, magnificent. And that is certainly not my personal choice but the penn spinfisher v has proved it over years, none of the other brands can give so many plus points in a single product line, which penn delivers to its customers.
And that's why In today's piece I am gonna release my penn spinfisher v spinning reel review, because there is a lot of good news that I cannot wait to share with you guys about this brilliant spinning reel. And yes I'll prove my point, of why I am claiming it the be the best pick again and again. And it's not just me but it is well acclaimed and celebrated as the best spinning reel in the current market section.
The penn spinfisher v spinning reel is not just loaded with features but also has turned up has a powerhouse among professional anglers and amateurs alike. Its gains those extra valuable points from its durability and versatility too. It goes well with all kinds of fishes, you can run through with it in freshwater as well as in the corrosive grip of saltwater.
Over the years Penn has shown up with numerous versions of penn spinfisher v, and I Kidd you not, all of them are just fantastic in their capabilities, although you can choose between reels according to sizes, no of bearings, gears, price, etc. But the one thing which is fortunately common in all of them is that none of them will disappoint you on your fishing trip.
Alright, let's just dive into each of the models of Penn Spinfisher V Spinning Reel and see how they all are different in working but the same in satisfy your needs on a fishing trip. But first, pack up your seats for this crazy ride…
Pinn Spinfisher V Models And Their Specifications

Penn Spinfisher V SSV3500
(1) This one is the smallest model of the Spinfisher V line by Penn.It is specially designed for lightweight catches and saltwater fishing and sand environments. It weighs around 14.4 oz, enabled with Fluid cranking with 5 shielded stainless steel ball bearings that count on and instant anti-reverse bearing, all totals up to 6.
(2) The gear ratio is a basic of 6.2:1  and the line retrieval is 30 in.per handle rotation. Sealed HT-100 Slammer drag system provides robust, silky-smooth drag, while friction trip ramp prevents premature bail trip when casting. It ensures the maximum drag of 20 lbs.
(3) The weak point of this model of Pinn Spinfisher V has to be the non-availability of a left-handed version. That's why it becomes somewhat useless if you happen to be a fishing enthusiast.
Penn Spinfisher V SSV4500
(1) When it comes to performance this model Penn Spinfisher V  SSV4500 has an edge over the SSV4500 model of the same. Although it shares with some common characteristics with SSV3500 like gear ratio of 6.2:1 and a total 6 balls 5 shielded stainless steel bearing infused in it.
(2) Some features that stand out are the front drag system with maximum drag upto 25 lbs and the line retrieval of 35 in the per handle. It weighs around 15 oz.
(3) It has certainly got full Metal Body, side plate, and Techno-Balanced rotor, Machined and anodized aluminum Superline spool with Line Capacity Rings, which makes it a good pick for saltwater fishing. This also has a left-hand model which is just supreme for all the left-handed anglers out there.
Penn Spinfisher V SSV5500
(1) This one is a brilliant pick if you are really interested in moderately sized fishes like walleye and smallmouth bass. It has to be the first so far which can handle such fishes of the saltwater. It has got some durable construction with full metal body, side plate, and rotor and heavy-duty aluminum bail wire.
(2) The Sealed HT-100 Slammer drag system provides robust, silky-smooth drag. The maximum drag offered by this is  30 lbs and line retrieval of 35 in the per handle. It weighs around 21 oz.
(3) Becoming the first from the spinfisher v series it has a gear ratio of 5.6:1, which gives the angler that extra point from earlier models. It also has a left-handed version of it available easily.
Penn Spinfisher V SSV6500
(1) This model of penn spinfisher v SSV6500 is extremely similar to the SSV5500 model but with higher price.The reason for a higher price of it is that its gives you retrieval line of 39 in per handle ,rather than just 35 in per handle of retrieval line like the SSV5500 model.
(2) But I do not suggest this model as it doesn't gives any extra benefits beside the retrieval line.For that same reason it does not seems worth those extra bucks.
Penn Spinfisher V SSV8500
(1) The Penn Spinfisher V SSP8500 is another model from the spinfisher v series which is capable to catch over moderately sized fishes. It offers the maximum drag of 35 lbs and runs on gear ration of 4.1:1. The line retrieval is around 42 per handle, which is fairly good in this price segment.
(2) It weighs around 32 oz, which also seems good enough to handle no matter you are a right-handed or a left-handed angler. The base version comes with right-handed spinning reel but it also has a left-handed version to offer their customers.
Penn Spinfisher V SSP10500
(1) This is the best of all spinfisher v models that are in the market so far. The power it ensures is just brilliant and is a powerhouse in a true sense. It has a maximum drag of 40 lbs which is splendid for anglers who love to target heavy fishes.
(2) It ensures the exact heavy duty saltwater fishing which you are expecting from Penn spinfisher v. The gear ratio is 4.2:1 with line retrieval of a blasting 42 in per full handle revolution.
(3) The reel itself weighs around 39 oz. To summaries it all for you this has to be the best penn spinfisher v model that you can get for your next heavy-duty saltwater fishing trip. You will seriously don't wanna miss this at any cost.
Features that Stand Out for Penn Spinfisher V Spinning Reel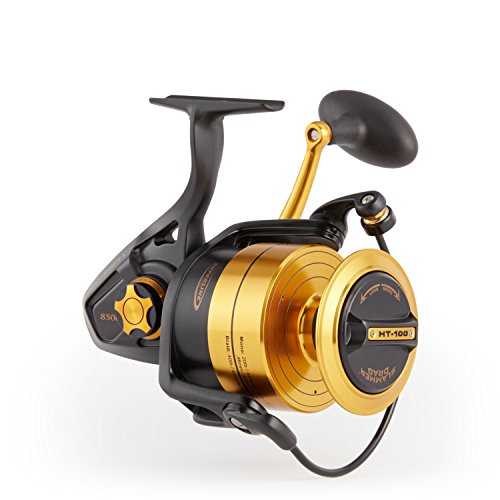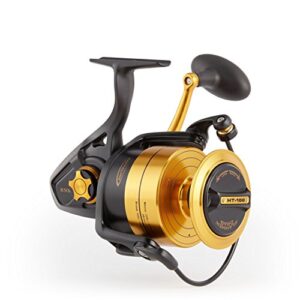 (1) Full Metal Body –The body of the penn spinfisher v Spinning reel is made out of aluminum, which itself ensures the level of toughness of the reel. It not just gives great backbone support to the reel but also shines out with a delightful design. None of the models of the 5th generation Penn spinfisher spinning reel compromise on the body.
(2) Watertight Design –Penn has really invested a good amount to build such a watertight design in all the models of the spinfisher v line. We can actually see how amazing all the parts of the reel are made to be watertight.No matter you prefer fishing in freshwater or saltwater .this spinfisher v series by Penn has made sure that water does not get inside and even if it does, it has no corrosive effect on the parts.
(3) HT100 Slammer Drag System –The HT100 Slammer Drag System is built with 3 oversized HT100 washers. They have keyed carbon washers, which lengthens the life span of the reel and provides a smooth and jerk-free fishing experience when the fish counters with heavy force.HT here stands for high tech which is carbon fiber laminated over fiberglass.100 signifies to the equivalency of 100 miles of the line taken for testing the reel out, which is just magnificent.
(4) Superline Spool –The superfine spool enabled with the reel is perfectly cut through the machine from anodized aluminum, to maximize the tolerance level of the reel. It is braided ready, which means you do not have put on extra braids while fishing. Penn has made the rubber of the spool wide enough so that there is no chance of slippage, which is not seen in any other spinning reel of famous brands in the market.
(5) Technology Balanced Motor –The Techno-balanced has over time became the trademark of Penn. It is designed to give out a smooth retrieval force. When combined with a 5+1 bearing system of the reel makes it a really smooth experience. 
Penn Spinfisher V Spinning Reel Final Review
So here we are, at the end of this review. I hope you now share the same feeling as others about the penn spinfisher v spinning reel. I can vouch for it without any doubt, as it did not disappoint me even for a second during my fishing experience with it.
It was smooth and charming to handle and does not let that adventure of fishing in the saltwater wash away with any malfunctioning. If I need to pick my favorite out of all of them will simply not take a second to point out on the penn spinfisher v SSP10500, which is just the best thing I have invested in recent times.
Alright!Its time for me to go and have a check on my spinning reel.Guess It down, guys! I have already revealed it somewhere in this review. So this was the penn spinfisher v spinning reel review by me. I hope you like it. Tell me down in the comment section which one is your favorite among them and the reason behind it as well. I would love to hear your thoughts on this.